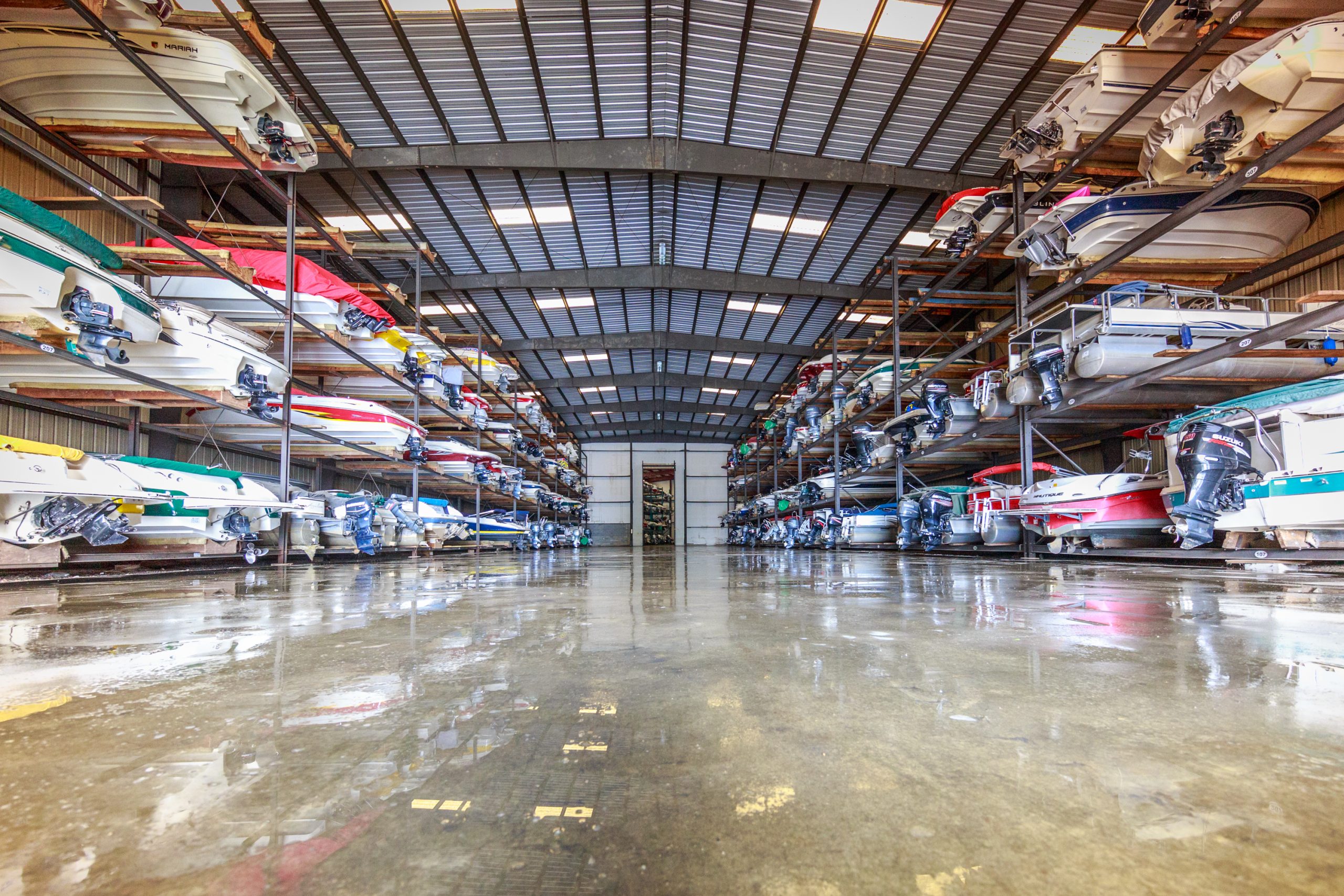 No matter what kind of watercraft you have, you want to make sure you are taking proper care of it. During winter months or whenever you will be off of the lake for a long period of time, you want to make sure your boat is protected. When it comes to keeping your boat protected, dry stack boat storage is your best option. With colder weather months approaching, now is the time to start looking at how you will winterize and store your boat. 
What Are the Advantages of Dry Dock Boat Storage?
Protected from the elements
Outdoor elements can present harsh conditions for your watercraft. While severe weather can cause immediate damage to your boat, sun and wind damage can create long term wear and tear. After a long time in the sun, paint can dull while seals and leather can dry out. Dry stack boat storage removes the watercraft from the lake and stores it in a climate-controlled facility. By doing so, the boat has no risk to damage from sun, water, or wind.
Prevents dock mishaps
Many owners choose to keep their boat docked in the lake long term. While many boaters are able to do this, there are many risks with keeping your boat in the lake long term. Boats can often come untied for a variety of reasons or can experience some kind of damage from other watercraft wakes. Mold and mildew can grow, and animals can intrude to cause damage. Even worse, they can possibly end up sinking. By removing your boat from the lake, it will be protected from any unforeseen mishaps.
Concierge service
Dry dock storage facilities, such as Eaton Ferry Marina, offer concierge services. Boat storage concierge services allow for easy storage and retrieval of the watercraft. The concierge service will take care of your boat as if it were one of their own. The boat storage concierge also offers winterization, detailing, and shrink-wrapping services. You just need to drop it off and we take care of the rest!
Security
One of the major benefits of dry stack boat storage is security. Boat storage facilities are constantly monitored and they are secure locations. Many watercraft have valuable outboard engines and are frequently targeted for theft and quick resale of the engine. This is a common threat that boat owners face. By storing your watercraft in a storage facility, the watercraft cannot be accessed and runs no risk of vehicle or engine theft. No matter how long you are away from Lake Gaston, you can be sure that your boat is secure.
Convenient
Keeping your boat at a storage facility is very convenient. It removes the hassle of having to transport your boat from the lake to a parking location. Many people are forced to keep their boat in either their yard or take up a significant amount of their driveway. By keeping your boat in a dry storage facility, there is no need to find somewhere to keep your boat and trailer.
By purchasing a slot at our boat storage facility, your boat will be in just as good of condition as you left it and ready for you to get back out on the lake. Eaton Ferry Marina is one of only two dry stack boat storage facilities on Lake Gaston with 300 storage slips. Our forklift capacity is 15,000 lbs. and we can easily accommodate boats up to 27 feet in length. We also feature a full-service on-site mechanic and an accessible boat ramp.