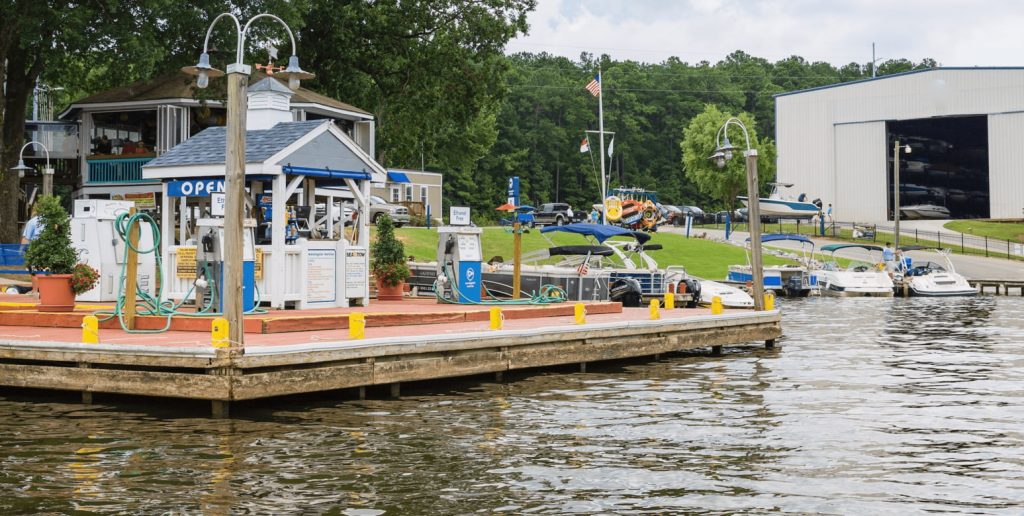 Welcome To Eaton Ferry Marina
Eaton Ferry Marina, part of Keel Marinas, is Lake Gaston's premier full-service marina. Located on the border of Virginia and North Carolina, Lake Gaston is a 20,000 AC lake. Eaton Ferry Marina is a central hub for the lake, delivering a complete set of amenities. Our marina has 27 boat dock wet slips with electric, water and WiFi services. We also offer 300
dry stack boat storage
slips, a non-ethanol fuel gas dock, boat rentals, full-service mechanics, and our ship store.
Eaton Ferry Marina leases space to Overby Marine Sales & Service and The Pointe Restaurant. The Pointe Restaurant offers casual waterfront dining and a 7,500 square foot outdoor entertainment and dining venue.
Overby Marine Sales & Service boasts a stellar reputation as Centurion Boats' Top-Selling Dealer on the East Coast. With over 21,000 square feet of showroom and service area, we offer top brands such as Avalon, Supreme, Sea Ray, and Bennington Boats.
Come and visit us at Eaton Ferry Marina! We serve the local and vacationer communities of Lake Gaston. Make sure to follow our social media for more information on live events, music, and more!
Lake Gaston Marina Services
– Fully stocked Ship Store
– 47,000 square foot Marina Facility
– The Pointe Restaurant with Tiki Bar and Outdoor Entertainment Venue
– Regional Boat Dealer with Full-Service On-Site Mechanic
– 23 Boat Rental Fleet
– 300 Dry Stack Boat Storage Slips
– Boat Detailing and Shrink-Wrapping Services
– 27 Wet Slips with Electric, Water, and WiFi Services
– Non-Ethanol Fuel Dock
– Accessible Boat Ramp
Contact Information:
Address: 1865 Eaton Ferry Road
Littleton, North Carolina 27850
Marina Hours:
Tuesday – Sunday: 9am-5pm
Monday: Closed